The Cambridge Festival is running 26 March – 4 April.
Find below links to our Festival activities, which include a behind the scenes tour with the Garden's Head of Horticulture, a new wildlife gardening trail, surveys of the Garden's wildlife population, family Easter Bingo, and lots more!
To find out more about the Festival and the brilliant events that they have going on, please click here.
A virtual exploration of the Botanic Garden
Friday 26 March – Sunday 4 April
See what's in season, what's in bloom and travel with us behind the scenes in this exploration-themed film to visit our private reserve houses, where plants are nurtured for the display houses.
We venture from continent to continent, hearing about plants collected by explorers from the past, as well as more recent botanical and scientific discoveries. See also our 'baby' titan arums, the popular Jade Vine and the recently flowered Moonflower in our Glasshouse Range which is currently closed to the public.
We hope you enjoy this virtual exploration of some of our plant collections.
Wildlife Friendly Gardening Trail
To download the trail, click here.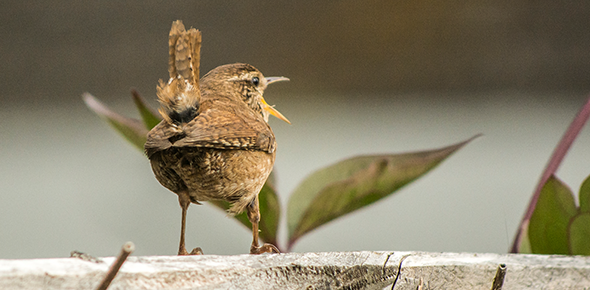 Our gardens not only provide us with pleasure and sometimes food, but also make up an important network of green space that can provide vital habitat for wildlife.
Explore the ways you can attract different wildlife species to your garden by visiting Cambridge University Botanic Garden and taking a stroll around our 16 hectare wildlife oasis through the lens of a new wildlife friendly gardening trail.
Threatened plants with a 'Ray of Hope' growing at Cambridge University Botanic Garden
2:00pm-3:00pm, Saturday 27 March
3:00pm, Saturday 27 March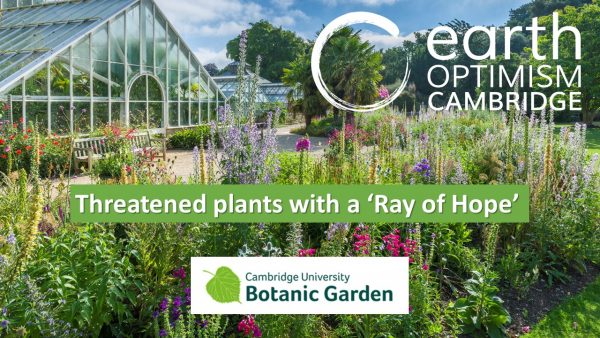 Join us at the Earth Optimism film festival to meet a selection of plants growing at Cambridge University Botanic Garden with inspirational back-stories. Starting with a plant aptly named 'Ray of Hope', we will take you on a virtual tour around the world to celebrate the plant conservation work being undertaken in far flung places, but also closer to home.
Head over to the Earth Optimism website to watch.
This is being shown as part of the the #EarthOptimism Film Festival – one aspect of Earth Optimism at the Cambridge Festival. Simply search 'Earth Optimism' to find out what else is happening!
Wildlife Diaries at the Botanic Garden
5:00pm-5:45pm, Thursday 1 April
Event information here.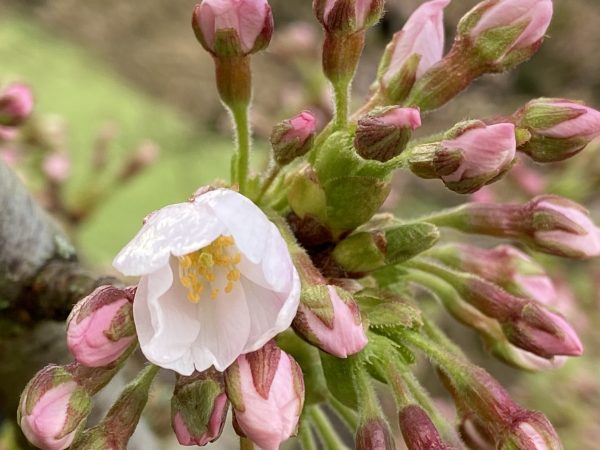 In 2021 we will be keeping a diary of all the wildlife events taking place at the Botanic Garden as spring unfolds. Follow us on social media in the lead up to the Cambridge Festival as we share some of our wildlife diary entries.
On 1 April at 5pm we will be bringing together all the most exciting diary entries into a short film so you can share the joy of discovering nesting birds, see what we have captured on our camera traps, and find out which plants have already burst into blossom, and then get your questions ready for a live wildlife Q&A with our experts.
Subscribe to the Museum of Zoology's YouTube channel to be notified when this content is available.
Twitter: @ZoologyMuseum & @CuBotanicGarden
Facebook: ZoologyMuseumCambridge & CUBotanicGarden
Instagram: @MuseumofZoology & @CUBotanicGarden
Spring Bingo
This spring, the Botanic Garden is playing a giant game of outdoor bingo.
To join in the fun, simply pick up your free bingo sheet on your way into the Garden. Get hunting for different springtime sights and claim your prize at the end. The bingo includes lots of amazing springtime plants and animals, including the brightly coloured Brimstone butterfly, beautiful cherry blossoms and the elusive Purple Toothwort plant.