While we've had to make some changes to accommodate the new, necessary health and safety precautions, we hope that the familiar beauty of the Garden will provide an oasis of calm during these uncertain times.
We've missed the sounds of people's voices in the Garden – the happy shouts of children and the conversations people have about particular plants and plantings.

During lockdown we have continued to maintain our collection – which supports plant science research into some of the world's most challenging problems – but it has become apparent just how important our visitors are to bring life, enjoyment and support to our 40 acres.
We hope that new initiatives such as queue management systems, regular hand sanitation stations and one-way systems to avoid overcrowding will make people feel reassured, safe and comfortable during their visit.
One of the main safety measures that we have introduced is pre-booked, online ticketing. Entry is only with a pre-booked ticket – visitors cannot just turn up at the gate as before. This is so that we can make sure that we have a safe number of visitors on site, which allows people to relax and explore the Garden. Tickets can be bought from our website.
We were overwhelmed by the response when we released the tickets – in fact the number of people trying to buy them as soon as they were released crashed our website! However, now that the initial rush has died down, we still have plenty of tickets available and so urge people not to be put off if you can't initially get a ticket at 10am on a Thursday (when we release the next week's tickets).
The Garden Café and Shop have reopened, though both in slightly different forms too – with the Café operating as a take away and the Shop relocating to the Plant Hut in the centre of the Garden so that the area near the Brookside ticket office doesn't become congested. They are both only accepting card payment.
After a 'soft opening' to Friends of CUBG to thank them for their continued support during lockdown, we opened to the public on 16 June, and have been delighted by the response that we have received from Friends and the public alike. The feedback to our staff has been unanimous joy at being back.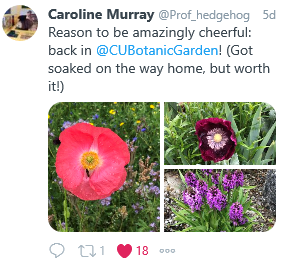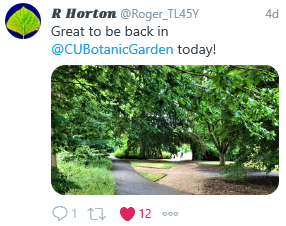 Now that we are open again, the Garden looks very different to when we closed in March – we've had a dry spring, which has been challenging for all the new plantings we did in winter and early spring.
The week before we opened to our visitors, the lawns definitely had a tinge of brown about them where they'd become parched, and some long-established perennial plantings were beginning to look weary. The recent rains have really helped perk things up, and despite having fewer staff on site, and a dry spring, we're really pleased that the Garden is looking as good as we could hope for the peak season.
During closure, a small skeleton staff came in to water the plants and do basic maintenance while socially distanced. As the lockdown progressed, we were able to increase the hours that staff were in the Garden, and now we have a slightly fuller rota of horticulture staff coming in every day to keep the Garden looking fantastic. If you visit, you will see them working in roped off sections, carefully distanced from each other, and separated from the public too.
It was strange with no one else in the Garden – in some ways it was lovely having our own, private, space at the start, but we soon missed our colleagues and of course our visitors. The Garden felt quite soulless without them.
A nice side effect to the recent changes is that we have broken down our usual teams within the Horticulture department, so colleagues who usually work in completely separate sections of the Garden are now working together in a way that hasn't happened before. This has allowed us to work in larger teams, and share techniques and ideas as we work alongside each other in all areas of the Garden.
The Garden is literally bursting with blooms with so much to see, and space to relax in, feel uplifted and inspired. We hope you are able to plan a visit and we look forward to welcoming you soon!