Over 2,900 species have been recorded at the Garden so far
Help us keep track of the species using the Garden by photographing the species you spot and submitting your photo (along with the date taken and location in the botanic garden) to wildlife@botanic.cam.ac.uk or to our iRecord activity CU wildlife recording.  A quick start guide to using iRecord can be found here. Further more detailed guidance on how to use iRecord and our activity can be found here.
Wildlife Monitoring programme
Although there has been a long history of recording in the Garden, there has been no overarching CUBG wildlife monitoring programme. We are in the process of bringing all the historical monitoring activities together and establishing new monitoring projects under one programme, and are looking for volunteers to help. If you would like to undertake regular surveys for birds, butterflies, bats using standard methodologies please get in touch at wildlife@botanic.cam.ac.uk. Data from these regular surveys will help us understand changes in wildlife over time, contribute to national monitoring schemes, and create opportunities for research.
We have been monitoring moths since March 2018 as part of the Garden Moth scheme. Volunteers are welcome to join us to get a flavour of what moth trapping involves and to see the amazing diversity of moths that occur in the Garden. So far we have seen over 250 species.
From April to September, we undertake butterfly transects on warm sunny days each week on Fridays 12-1pm during our lunch break. If you love butterflies come and join us and help us record the butterflies for the UK Butterfly Monitoring Scheme.
Bat monitoring as part of the National Bat Monitoring Programme has been taking place in June and July since 2003, and we are hoping to expand our bat monitoring activities in the future.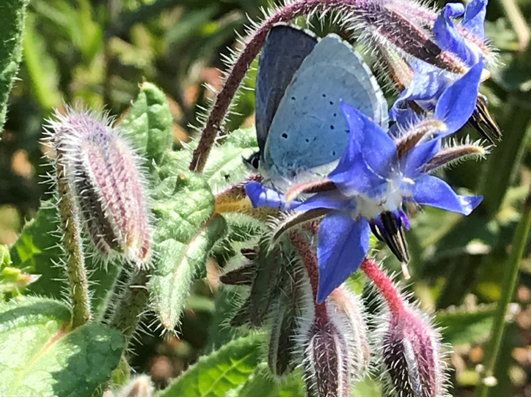 If you would like to volunteer to take part in our wildlife monitoring programme, please email wildlife@botanic.cam.ac.uk.
Annual Bioblitz event
Each year we invite local experts to count all the wildlife they can find in a 24 hour period in the Garden. Many of our records are generated here, but we also engage with the public by taking them on guided nature walks or inviting them to join us to survey for a particular group or species. You can learn about past Bioblitz events here. If you would like to contribute to future events please email wildlife@botanic.cam.ac.uk.